And so also the main event of 2018 is behind us…
The terrain and the forests around Sigulda aren't the friendliest one, as we already experienced last year on the World Cup races, and for sure it won't be remembered as the most stunning WOC ever… However, it was a great challenge, as always.
Riccardo came very well prepared physically after many good intervals sessions, training camps and a bit of altitude remained from Madonna di Campiglio… Carlotta was struggling a bit with her left foot, but it is taken care of now.
Let's move to the competitions:
After two good Qualification runs in the morning we both entered the Sprint Final held in the narrow streets of Riga Oldtown. Carlotta ran an average race, with some smaller mistakes and shows to the public… (Yes she fell on the starting dais 0.1 seconds into her race) 😛 Riccardo started well but took almost every bad routechoice and loss more than 90″ in total, so no chance for a good result.
Sprint Relay is probably the most enjoyable event to experience as a team, as for once both men and women are running together as a whole; after some good legs our team was in the fight for the top12 (the ideal goal was top10) but some mistakes on the last leg fade it… New chance at Euromeeting next September.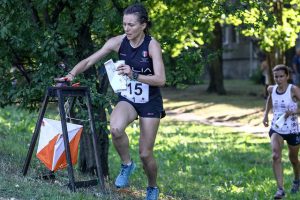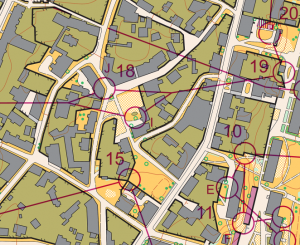 As said, the forest isn't much more than "fallen tree, green, fallen tree, green"… But yet required great compass skills and terrain feeling, (something that we both misses) as many times the contours were hard to follow or either there was none. In the middle, we both hade too many mistakes in the beginning where the visibility was really low, while it got better along the course; at least Carlotta managed to take a revenge and run a great 2nd leg in the forest relay, catching up 8 places and bringing back the team into the fighting positions!!
RESULTS Relay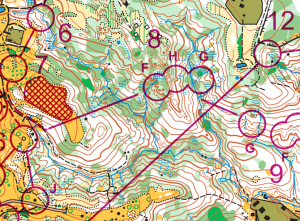 Despite not having the best performances, compared to the earlier European Championships last May, we had a good time and enough motivation to show what we can really do in the next competitions…
Riccardo will already move next Wednesday to Norway for training and racing the World Cups, while Carlotta is taking some rest and healing the injured foot. She will be back in September with the Italian Sprint Team for the Euromeeting weekend in Denmark.
Thank you to all our sponsor, family, team managers, coaches and to all the supporters who are always cheering up to us!!
Riccardo #timetoplay #maurten #trentino #aptsanmartinodicastrozza #pwtitalia
Carlotta #buff #olcgraz #pwtitalia
Pictures by J.Ligats & IOF