Last weeks have been really busy for me,
On the 26-27th of September the Italian long and relay championships were held; the terrain was not one of my favorite but I still think that the courses were challenging and the green forest… green!!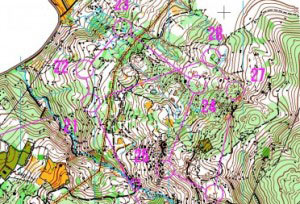 I didn't really run at my best, the long distance was really demanding and it was hard to navigate for 100 minutes or more between all that gullies without any mistake. And in my case the misses were really too many and the speed not as I hoped.
New day new chance, on Sunday
I was running 3rd leg with my teammates Giacomo and Mattia for U.S Primiero. The terrain this time was even greener and steeper than the previous race, but I think the course was good for relay, with many gafflings and tricky controls.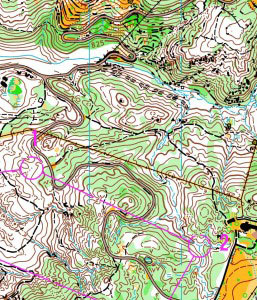 I went out in 2nd place together with Alessio (forestale team), but my orienteering in the beginning was not too accurate and I lost some minutes. Around halfway also Michele Caraglio caught me, we ran together as long as I realized we had a different control and I went by my own. With no Mik ahead I decided to push a little bit more and reach Alessio, but I didn't knew how much was the gap; I realize I was close only when I saw him 50 meters ahead of me.in the final part of the race I ran (it was far too green/dense to actually run) well and I managed to keep the 2nd position behind a strong TOL relay team.
After that I had not much free time… on Thursday we were already heading to Arosa in Switzerland for the World Cup final round.
The program consisted of three races: Long on Friday, middle on Saturday and Sprint Relay on Sunday.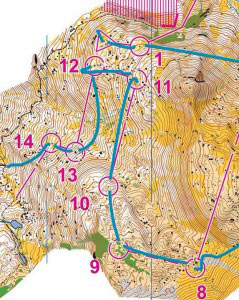 On Friday I went out in the forest with two nonamesport capri             O-trousers, a long sleeves shirt, long socks and one gel, since I knew it would have been a cold, long and tiring afternoon on the mountains. My race went ok except a wrong route choice to the 2nd and few mistakes in the beginning, but in general the race was really hard because of the amount of climbing (more than 700 in 12km). I'm still ok with my result, 42nd with a normal-slow pace race.
The next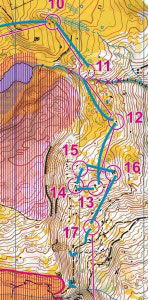 day we all knew the middle distance would have been much faster, and it was! The weather also got better and the sun finally came on Arosa. After a good warm up, I started carefully to the first control and then I tried to push harder along the course, only some mistakes at the 3rd control and at 6th plus few smaller ones, but I'm satisfied with my 36th place and I enjoyed my orienteering very much there!
On the final day we all went to breakfast with an unusual snowy landscape and 0°C, not the best motivation before a sprint relay.
Our team was: Lia P. – me – Roberto D. and Christine K.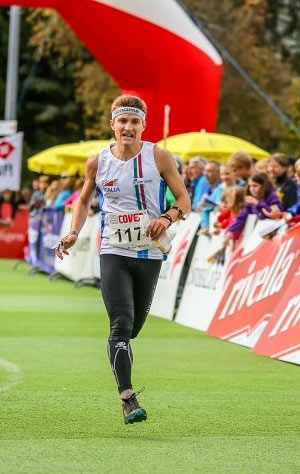 Lia as always did a great job changing over in second place only 2″ behind the leading swiss team; I sprinted as fast as I could to try to keep their pace but obviously it was also important to check my forking and have control of what was happening. The previous race were really "in my heavy legs" that morning and I couldn't run as fast as I hoped, also a dumb mistake made me lose 15″ and few places. Fortunately my teammates then did it well too and we finished 15the with many second teams in the result list.
As I got home I only had a little time to repack my bags and leave to Germany for JEC – the Junior European Cup.
After 15 hours of driving we r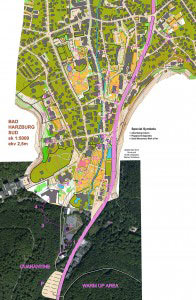 each Torfhaus in the Harz mountains.
The next morning we had a little run on the
sprint-model and we all got ready to compete again.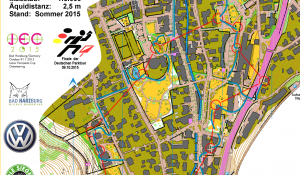 I felt ok physically and ready mentally since we played with the old map (thanks Stefano Raus 🙂 a little bit before the race and we tried to draw our own course on it. My race went good, far from perfect and with some bad routes and small mistakes exceptionally in the
beginning….. but I'm satisfied with my 1st Place! 🙂
The next morning a though long distance was in the program. The fast-stony terrain of the Harz Mountains is just awesome, and the 11km of the race showed its best. I didn't make big mistakes except a wrong route to the 4th control, where I could have been 4′ faster more or less.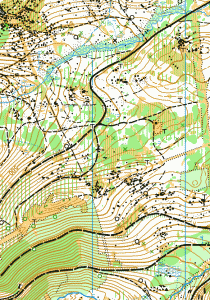 After such a hard long distance, the time to recover was not much, but thanks to my BV-Sport Prorecup Elite my legs were fresh again and ready for fighting again in the relay. Fabiano Bettega our fist runner did a great job changing on the 8th spot together with the lead. Mattia Debertolis also did it well keeping position despite some misses. Our coach Jaroslav told me to hunt as many places as I could, in the beginning of the race I wasn't really running well at all, but after some time it got better and better as I started to see other runners ahead. I felt strong on the uphills so I tried to catch as many places as possible and push as hard as I could; I'm not 100% satisfied because the podium was really near, but we all three did our best and I'm good with it 😀
I'm now moving to Oslo to train, study and enjoy my life as always..
Many thanks to BV-Sport and Nonamesport who support me with some of the best products one can find
check them websites for more: http://www.bvsport.com       http://www.nonamesport.com
R.S