With the fear of my terrible WOC forest performances still in mind, I decided to fly to Latvia about one week before the World Cup Round in Cesis was planned (24-27 August 2017). This allowed me to get familiar with the Latvian forest and enjoy some days of hard training.
I realized that, once again, WOC2018 will be held on very dense and technically demanding forests, which have nothing in common with the dreamy white pine forest around Riga… unfortunately.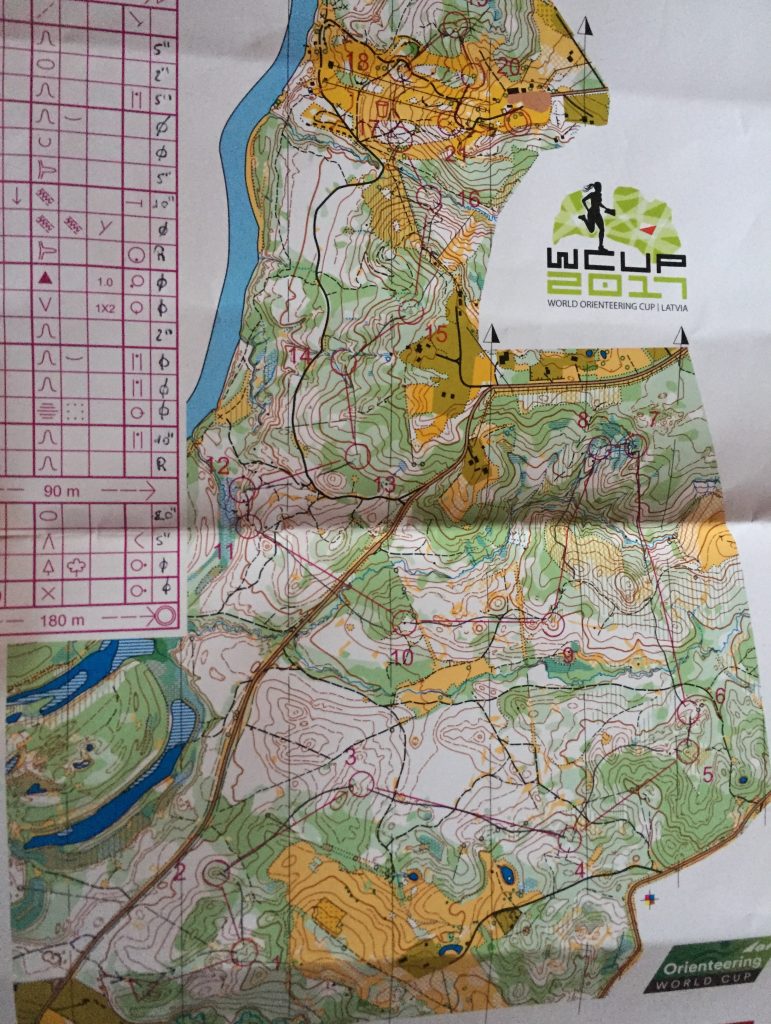 A bit tired, but determined, I went off the World Cup Middle distance. Some good controls allowed me to catch few runners (and get caught… surpisely 🙁 ). We all ran as a pack, avoiding bigger mistakes and pushing hard. 47th place, then no WCup points, but with such a strong runners' field I am satisfied anyway.
Once again I ran the first leg of the Relay, the next day; my run was not too bad, but it's hard to catch up time in such a dense forest when you miss already the first control. GPS
On Sunday another tough day awaited, Sprint Qualification in the morning and Sprint Final in the afternoon. This time I got very lucky and qualified as the last runner in the C qualification heat, only 30″ behind the winner (!!)
I started as second in the final, but soon after I've caught the previous runner from Germany, anyway I managed to keep focus on my own and finish the hilly course with some good feelings. 25th place 1'08" behind the winner, with some smaller/bigger route choices mistakes. Strava          GPS
No rest was allowed as I planned to run the #YCC races in Chamonix and Courmayeur. These two events are part of the UTMB' (Ultra Trail du Mont Blanc) week, which, together with my Team Salomon, I've been waiting for a long time. We took advantage of the chance and had a good training with the legend himself Kilian Jornet Burgada… and yes, he's fast… Strava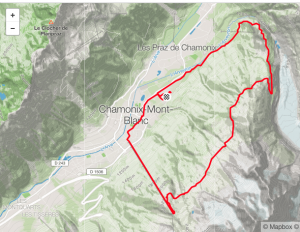 The very same evening a short 2,3km prologue was held in Chamonix, I entered my fast&furios mode and managed to sprint despite the heavy legs. 3rd place.
However, the major event was held in Courmayeur, a 15km course with over 1200+ ascent. As I started off I immediately realized my body was too tired to keep the uphills, therefore my strategy changed into a "get to the top somehow" technique and "gain time in the downhills". Indeed, after all, I finished as 6th overall and 4th Espoir runner, which I pretty pleased with… After 6 competitions in 7 days.
Above all, in Chamonix I had the chance to experience the biggest trail events in the world, the whole city was filled with thousands of runners and outdoor enthusiasts. Furthermore, experiencing it with the Salomon Team meant being in a family and get inspired by so many talented athletes and people.
Only 10 days of tapering and alternative training were then on the plan, as the Italian Long and Relay Championships in Cansiglio were waiting…
Both me, Tommaso and Sebastian came prepared to the event, as we could experience some days of training camp in early August, and we knew how the terrain would have been… Tricky, white forest and rocky in places… And indeed that's how it was!!
I started carefully in the beginning, then my speed increase and I managed to avoid the mistakes… Nevertheless to say, once again, I had cramps problem after about 70′ running, which transformed the end of my race into a painful torture. Anyway, I am happy to take the victory only 1′ ahead of the legend himself Micha Mamleev.
The next day it was time for the highlight of the weekend… relay!! The weather was crap, but both Tommaso and Sebastian managed to execute two good runs and sent me into the lead with a huge margin; my job was simple, take the victory with a clean race without pressure. Indeed I had some mistakes but anyway I enjoyed my solo-run and won the title!!
I will have now again 10 days of good training before the last races of the season: World Cups in Grindelwald Switzerland and the Park World Tour China in November.
Of course, the biggest thanks goes to my family for the continuous support, to my team Park World Tour Italia, to the Salomon family and to all everyone who helped me and was a part of this.
#timetoplay #rocktape #bvsport #nonamesport #nopeet #mtigersport #iltuomuesli @aptSMART @Trentino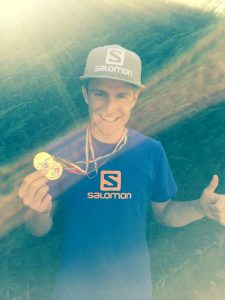 R.S